Regular price
Sale price
$37.00 USD
Unit price
per
Sale
Sold out
Are you ready to embark on an exciting journey of freeskating? Look no further than the JMKRIDE Freeskate Class! Whether you're taking your first steps on freeskates or looking to elevate your existing skills, our comprehensive class is tailored to meet the needs of both beginners and skilled skaters. Led by our official experienced JMKRIDE freeskate instructor, this class promises to take you through a dynamic and rewarding learning experience.
1. Mastering the Basics: Correct Freeskate Stance The foundation of freeskating lies in your ability to stand correctly on your freeskates. Our class begins with an in-depth exploration of proper stance and balance techniques. Beginners will be introduced to the fundamental principles of body positioning, weight distribution, and foot placement, ensuring a solid start on their freeskate journey. For skilled skaters, this section provides an opportunity to refine their stance and address any habits that may hinder progress.
2. Building Confidence and Balance Confidence is key in freeskating, and our class places a strong emphasis on helping beginners build their self-assurance. Through carefully designed exercises and drills, you will gradually develop your balance, allowing you to glide smoothly and confidently. Skilled skaters will have the chance to explore advanced balance techniques, enhancing their control and stability on freeskates.
3. Navigating Obstacles with Grace Maneuvering through obstacles is a thrilling aspect of freeskating. Our class dedicates a significant portion of time to teaching you how to navigate various obstacles with finesse and control. From basic cones to more complex setups, beginners will progressively learn how to maneuver around obstacles, while experienced skaters can hone their skills and explore creative ways to conquer challenges.
4. Unleashing Speed through Pumping Generating speed is an exhilarating part of freeskating, and our class has you covered. We'll delve into the art of pumping – a technique that harnesses your body's motion to gain momentum and speed. Beginners will receive step-by-step guidance on mastering pumping, and skilled skaters will refine their technique to achieve higher speeds and fluidity.
5. Expert Coaching by JMKRIDE Freeskate Instructor The heart of our class lies in the expertise of our official JMKRIDE freeskate instructor. With years of experience under his belt, our instructor brings unparalleled knowledge and a passion for freeskating. They will guide you through every aspect of the class, offering personalized feedback, tips, and corrections to ensure your progress is steady and rewarding.
No matter where you stand on your freeskate journey, the JMKRIDE Freeskate Class is designed to elevate your skills and boost your confidence. Join us for an unforgettable experience that combines technique, fun, and a supportive community of fellow skaters. Get ready to glide, spin, and soar with finesse – the world of freeskating awaits!
Share
What you'll need to bring
Location

- National Stadium (along the hundred plus track)

- Gate 12 (take the escalators closest to exit B of Stadium MRT)
View full details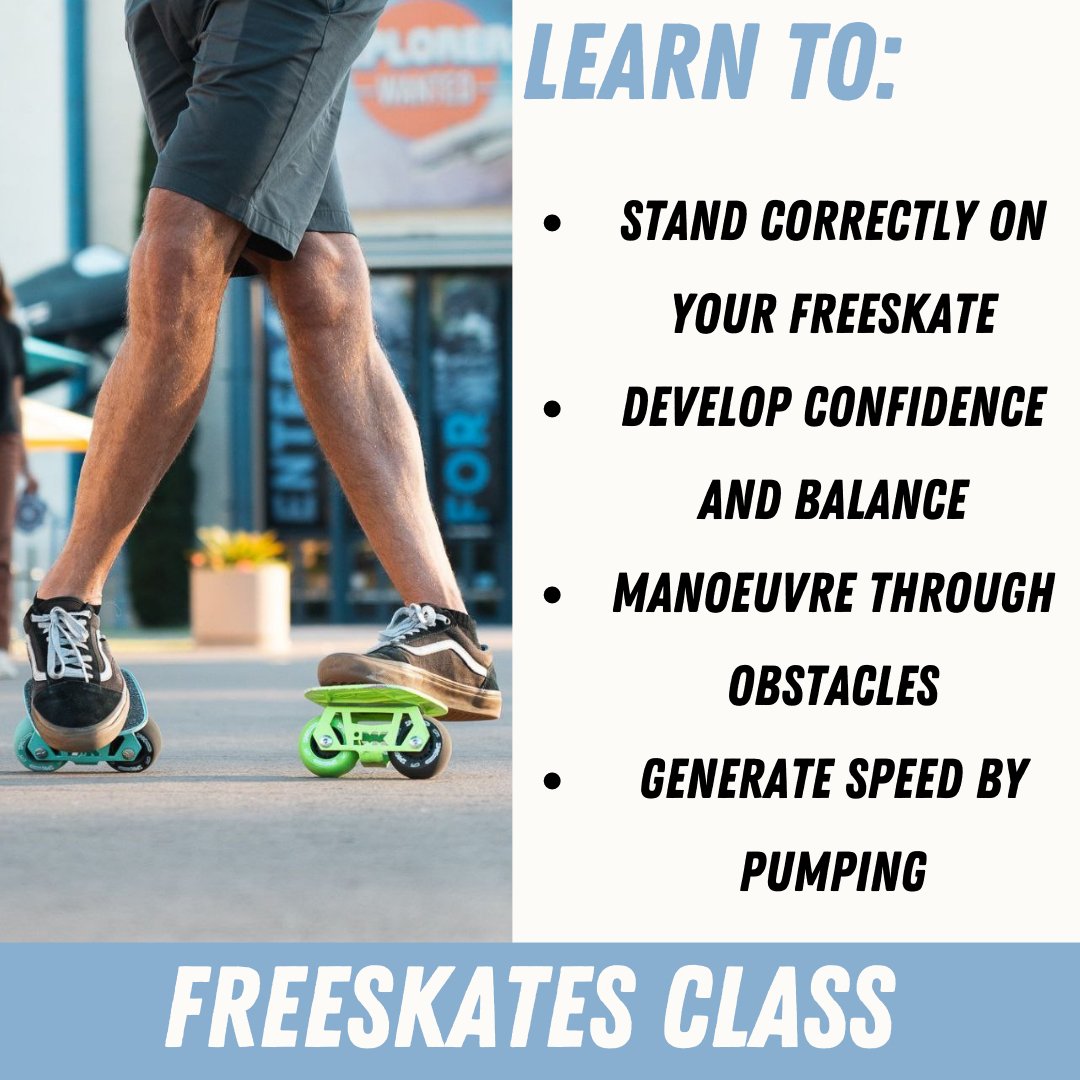 Quality for all
At Skatebruh, we take pride in offering high quality skateboards at an affordable price. As we manufacture our own line of skateboards, our team is able to cut out the middle man and sell our boards directly to you. This allows us to have a tight quality control over our products while offering competitive prices.
Our experience from manufacturing skateboards enables us to conduct strict quality checks on the brands we work with, making sure that each board sold meets the standards of our team.