Regular price
Sale price
$37.00 USD
Unit price
per
Sale
Sold out
Welcome to the exhilarating world of longboard dancing and freestyle! Our longboard class is designed to take your longboarding skills to the next level, whether you're a seasoned rider or just starting your journey on the board.

In this dynamic and immersive class, you'll learn to execute a mesmerizing array of dancing and freestyle tricks progressively. Our expert instructors will guide you through the steps, from the fundamentals to advanced moves, ensuring that you build a solid foundation before moving on to more complex manoeuvres. By the end of the course, you'll be gliding, spinning, and flowing effortlessly on your longboard, creating a captivating spectacle every time you step on your board.
But this class is about more than just mastering tricks – it's a platform for you to develop your own unique style and expression on the board. Longboard dancing is an art form, and we encourage you to let your creativity shine. We'll help you discover your own signature moves and encourage you to add your personal flair to each trick, making every ride a true reflection of your individuality.
In addition to enhancing your technical skills and artistic expression, our class is designed to boost your confidence. There's something profoundly empowering about mastering a challenging trick or effortlessly gliding through a dance routine. Our supportive community of fellow riders and coaches will be there to cheer you on every step of the way, fostering a positive and inclusive environment where you can grow not only as a rider but as a person.
So, whether you're looking to perform jaw-dropping moves, express yourself through the art of longboard dancing, or simply boost your confidence while having a blast, our longboard class is the perfect place to start. Join us for an unforgettable journey on your board, and let the rhythm of the wheels carry you to new heights of skill, style, and self-assurance!
Share
What you'll need to bring

- Your own skateboard (don't have a skateboard? No worries you can rent one here!)

- 6-piece protective pads (wrist, elbow and knee guards)
Location

- National Stadium (along the hundred plus track)

- Gate 12 (take the escalators closest to exit B of Stadium MRT)
View full details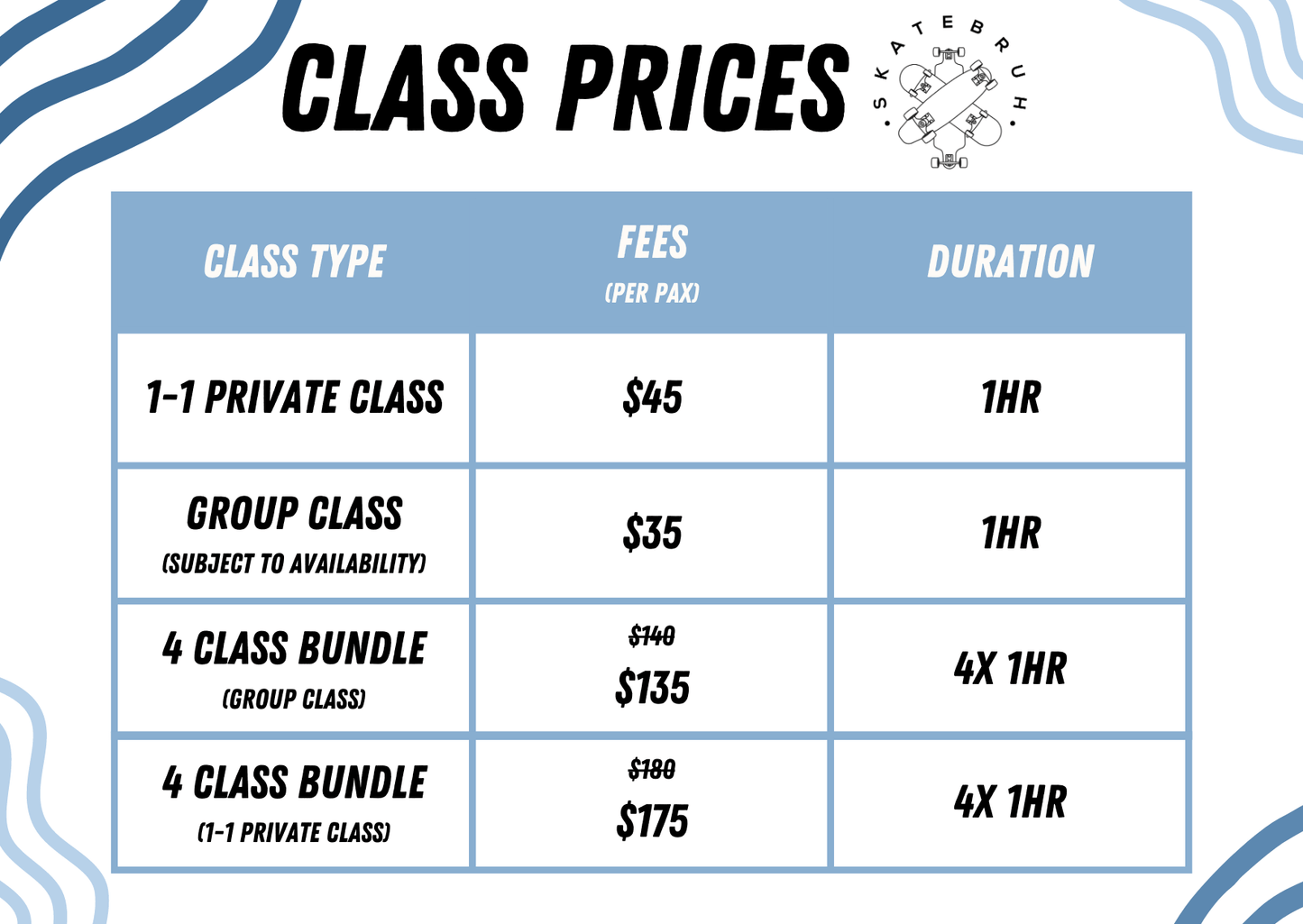 Quality for all
At Skatebruh, we take pride in offering high quality skateboards at an affordable price. As we manufacture our own line of skateboards, our team is able to cut out the middle man and sell our boards directly to you. This allows us to have a tight quality control over our products while offering competitive prices.
Our experience from manufacturing skateboards enables us to conduct strict quality checks on the brands we work with, making sure that each board sold meets the standards of our team.